Today is March 20th , which means there is less than a month until National Nanny Training Day!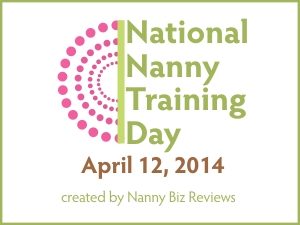 NNTD is an annual event created by Nanny Biz Reviews to provide support and training to nannies nationwide. NNTD is expecting over 2000 nannies this year and is being held in almost 40 cities across the US.  On April 12th nannies, agencies, and support groups will come together for a
day of learning and career advancement. This year, the Newborn Care Training Academy will be providing a workshop on Newborn Care Essentials at the New York City event. We are excited to share in this opportunity to provide quality training to the Nannies in NYC.  As supporters of NNTD, we wanted to share our top 5 reasons to attend National Nanny Training Day.
1. Nationwide Training Opportunities
There is something inherently powerful about knowing nannies from all over the country are doing the same thing at the same time. NNTD is being held in almost 40 cities this year which means there is likely one close to where you live! If you live more than few minutes away from your event, contact other local nannies to car pool and make a day or weekend out of it. Since events are spread out throughout the United States the majority of presenters, organizers, and attendees will be from the surrounding areas, rather than all over. This makes it easier to plan local events and get-togethers throughout the year.
2. Quality Training
NNTD events provide a great opportunity to access a wealth of new knowledge in a very short amount of time. In one day, industry leaders come together to provide you with several 1-2 hour workshops on topics relevant to the nanny industry. Workshops can range from car seat safety, to bullying management, to contract development and everything in between. To see what workshops are being held in your area, visit the Nanny Biz Reviews website.
3. Build Your Nanny Network
Any time a large group of professionals gets together there is an opportunity to network.  Just like in any field, it is important for nannies to have a trustworthy group of colleagues to consult on various issues and to provide support.  We all know that being a nanny can be a very isolating job if you don't take steps to build relationships with others in the field. NNTD is a fantastic way to meet other nannies in your area and to start building friendships.
4. Furthering your career
Attending NNTD is a great opportunity to advance your career since it provides the opportunity to expand your marketable skills and network with other nannies and agencies. Attendance shows current and future employers a high level of professionalism and eagerness to learn and grow as a caregiver. Parents love to see that you have made time to further your skill sets to provide the best care possible for their children.
5. Affordability
Most NNTD events cost between $20 and $50. The low cost makes it accessible to most nannies who are seeking additional training. Since these conferences are local, the traveling expenses that are associated with attending the event will be minimal and many employers are even willing to pay for the training! If you are looking for ideas on how to approach them print out this flyer!
Bonus: Fun!
NNTD is a great opportunity to have fun while learning and it's a great opportunity to socialize with others. If you don't know many nannies in the area, bring a friend and make a day of it. Afterwards, grab some dinner with new and old friends, plan to go out for a few drinks, or catch a movie. The fun doesn't have to end when the trainings are over!