I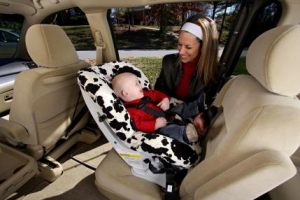 n today's world, we are constantly on the go. We spend the majority of our time during the day in our cars, which may mean that Baby is in the car with us. To ensure that Baby has a smooth car ride, the proper installation and use of a car seat is paramount. In order to make sure your baby stays safe in the car here are some car seat safety tips.
Car Seat Safety Tips
Use a rear facing car seat.
For the first several years of your child's life, she should ride facing the rear of the car.
Install your car in the back seat.
In addition to facing the rear of your car, your baby should ride in the backseat of the car. Car seats should not be installed in the front seat of a car as this location is too close to active airbags.
Use a car seat with a 5-point safety harness.
A 5-point safety harness is the safest design on the market currently. It includes straps for each shoulder, each thigh, and one designated for between the legs, to ensure that Baby is securely in the car seat. With straps for different areas, this harness is easily adjustable for when Baby grows.
Utilize the LATCH System.
The LATCH (Lower Anchors and Tethers for Children) System is designed to allow a secure install of a car seat base into your car. With the LATCH system, using a seat belt to attach a car seat into your car is no longer necessary.
Use a car seat with Side Impact Protection.
More and more car seats on the market today are designed with side impact protection for Baby. These car seats can be equipped with Expanded Polypropylene (EPP) Foam, which works to absorb and distribute energy from side impacts and crashes.